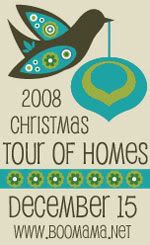 I am joining in the fun at BooMama's Christmas tour. Here are a few pictures of our Christmas Decorations. We have been so busy this year that I just put the boxes in the garage yesterday from putting the tree up! I apologize for the weird configuration of pictures, still learning this blogging thing.Here goes anyway...
Here is our tree. The ornaments have slowly migrated to the top as a result of the 1 and 2 year old who live here:)

The mantle is always my favorite because I always wanted one. The pictures on the stocking holders need to be changed. I still have pics of the dogs and cat instead of the kids!!!

This is our fiber optic snowman my Grandma gave me. We love him...as you can see by Grayson's face!

A few of my favorite ornaments....AHH, Starbucks...I want a Gingerbread Latte!

My favorite circus giraffe in his cage from when I was a kid, next to what is that....a jock strap? I found that at this FANCY place called the Golden Lamb Inn in Lebanon, Ohio. It was in their gift shop among lots of nice Christmas stuff. I couldn't resist. We laugh every year when we put it up, especially when I think where it came from. I think they must have just had them there to make people laugh or something. I mean who buys a jock strap ornament?? Well, me I guess....Hope you had fun!